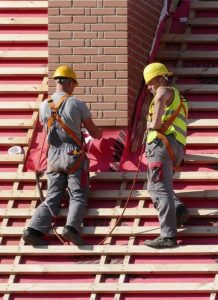 Hiring the right roofing contractor guarantees safety, saves money, and gives you peace of mind. Hiring a roofing contractor has so many benefits than doing the job yourself. However, several roofing contractors get so many complaints because they do not watch over their installation practices. Doing your due diligence can help you hire the right roofing contractor.
Want to hire a good roofing contractor? Continue reading to find out what to ask a roofing contractor.
1. How long have you been in business?
Asking roofing contractors how long they have been in business can help you know their experience. The best roofing contractors usually have several years of experience. They have a proven track record. However, there are new roofing contractors that do not have any experience. Do not hire them.
2. What jobs do you have that I can go to see?
Do not just believe what roofing contractors tell you. They may tell they have installed, replaced, or repaired several roofs in the past. If they cannot show you their previous jobs, it means they may do a shoddy job or they may have never done any job. If you like the jobs of a roofing contractor, hire that contractor.
3. What past customers can I talk to?
Talking to past customers of a roofing contractor can help you make an informed decision. This is because you will find roofing contractors that have happy and satisfied customers. They always do a perfect job. And they do not leave until you are satisfied with the job.
4. How long will my project take?
A good roofing contractor knows how long every project takes. And they stick to their schedule. Unfortunately, some roofing contractors may make you wait because they have several customers. You may wait for them for several days or even weeks while they are working on other roofs. Hiring a roofing contractor that will give you priority.
5. What steps do you take for the safety of your workers?
The best roofing contractors take the safety of their workers seriously. They train them on how to be safe when working on roofs. And they make sure the workers wear safety gear. Additionally, they have insurance that protects their workers from injuries.
6. What training and experience does the crew have?
When you hire a roofing contractor, the contractor sends a crew to repair, replace, or install a roof. That is why you need to know the training and experience of that crew. There are times roofing contractors are very busy, especially during summer. That means they may not have enough experienced workers to work on several roofs.
Therefore, they may hire temporary workers to help them. That is why you need to know the experience of the crew, which will come to your house, if you want to hire the right roofing contractor.
7. Will you provide me written warranties?
Ask for written estimates and warranties. Do not believe in what the roofing contractor tells you. A good roofing contractor provides written warranties that protect you. If a roofing contractor does not have a warranty, do not choose that contractor.
These are the questions to ask a roofing contractor. Questions supplied by Roof Restoration Port Macquarie.